| | |
| --- | --- |
| | |
HK9 Spectrometer
Using the latest microwave technology at the same time both the density and moisture can be measured without contact to the product.
Moisture and density measurement

state of the art microwave engineering
modular setup of evaluation unit and sensors
no moving parts
wear-free
maintenance-free
vibrations do not have an influence on the result of measurement
optional remote control from a PC or separate operating device
non-contact measurement
10 measurement/ second







Due to the robust and modular design the microwave measuring instrument HK9 is particularly suitable for the measurements of moisture and density at bulk cargo and bale on a conveyor belt.
Description:

The microwave measurement generate an electromagnetic wave of low energy. This signal is coupled via an antenna into the product (Paper, Tobacco, Sand, etc.).

Depending on the dielectric properties of the product the signal propagates in the product. After the signal has passed the product a second antenna receives the signal (Transmission).

Amplitude and phase shift of the received signal are an expression for the water content or dry matter of the product.

The microwave measurement is very stable and it has a quick response to product changes.

Transmissions signal passes through
an in-homogenous product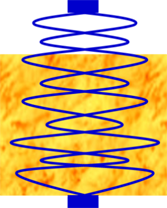 Calibration
The calibration of the HK9 is done with our easy to use Specter9 software.

Technical data:
Measuring procedure
Microwave engineering ISM- Band
Housing:
Size LxWxH
Enclosure
Color
pressure cast aluminum housing
230 x 200 x 110mm
IP65 / NEMA 4
RAL 5024
Connections
Power supply
2 Analog outputs
1 Analog input
Temperature sensor
2 PC interfaces
1 Relays contact
PROFI-BUS-DP
Digital inputs

100-240V AC, optional 24V DC
0/4 - 20 mA
0/4 - 20 mA
PT 100
RS 232 or RS 485
max. 5A/250V
optional
ext. select of 16 products / start / stop
User interface
Operating
Display

6 integrated soft keys in keypad
2 x 24 characters illuminated
Antennas
Vivaldi antennas
Ambient conditions
Environment temperature
Product temperature

-20°C to +85°C
>0°C to +100°C
Flyer HK9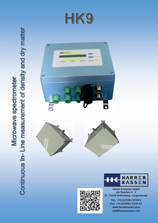 Harrer & Kassen GmbH
Am Heschen 4-6
D-75328 Langenbrand
Tel:     +49 (0)7084/9248-0
Fax:   +49 (0)7084/9248-29
eMail: info(at)harrerkassen.com