| | |
| --- | --- |
| | |
HK8
NIR-H2O-Meter
Unique LED- online moisture measurement

state of the art NIR-LED technology
no mechanically moved parts
specially designed for measuring of bulk material
the measured surface can be smooth, planar or bulk material
Colour has no influence on the measured signal
no maintanance
easy to use calibration software




The HK8 is a device for continuous NIR reflection measurement with infrared LED's. The NIR-H2O-Meter is a modular unit, evaluation and sensor system are mounted in different housings. The distance between sensor system and product can be up to 50 meters.

The measured value of the H2O content is available as digital (RS232, optional RS485) and analogue value (0/4-20mA).

Advantages:
In contrast to conventional IR or NIR systems from other suppliers, the HK8 does not work with colour filters or halogen lamps, and offered therefore improved stability of the measurement. The lifetime is up to 10 years. The drift of the measurement value, as is the case with other IR / NIR instruments, has been fully compensated. Colour variations of the product has no influence in the measuring result. Also uneven surfaces of the product, such as coarse bulk materials, can be measured. The HK8 has a very high reliability and very low maintenance costs.
Measurement Design:
The sensor system is located over the detected product surface. The products (e.g. paper webs, width of material and any kind of bulk material) are moving on a conveyor belt under the sensor system.







Applications:
all kind of bulk material
Plastics industry
Primary industry
Construction industry
Tobacco indutry
Sugar industry

Cement
Gravel
Coal
Granitic sand
Clay
Plastic granulate
Calibration:
The calibration of the HK8 is done with our easy to use Specter8 software.

HK8-Versions:
Standard with 1 calibration
Standard with 8 switchable calibrations


Technical data:
Housing:
Size LxWxH
Enclosure
Color
pressure cast aluminum housing
180 x 180 x 100mm
IP65 / NEMA 4
RAL 5024
Connections
Power supply
4 analog outputs
PC interfaces
PROFI-BUS-DP
Sensor

100-240V AC, optional 24V DC
0/4 - 20 mA
RS 232 oder RS 485
optional
LED-Illumination
User interface
Operating
Display

6 integrated soft keys in keypad
2 x 24 characters illuminated
Ambient conditions
Environment temperature
Product temperature

-20°C to +50°C
-20°C to +70°C
Flyer HK8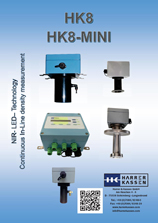 Harrer & Kassen GmbH
Am Heschen 4-6
D-75328 Langenbrand
Tel:     +49 (0)7084/9248-0
Fax:   +49 (0)7084/9248-29
eMail: info(at)harrerkassen.com